Gold Hoops Presents #TIMESUP in the Music Industry

Kaina:
Janelle Monae is an influential woman who used her voice to advocate for those who are voiceless. In her speech at the Grammys, Monae mentions the trending words "Time's Up", which allows women to speak up on their experience with sexual harassment. Recently, many women have gained the confidence to speak out on these horrendous experiences, and these women come from a multitude of backgrounds. Marches, songs, and other forms of expression are used to shed light on these events. Celebrities like Ke$ha, Halsey, Gabrielle Union, Oprah Winfrey, and many more are using their courage to speak on events that are life changing. Janelle Monae made it very clear that #TIMESUP and that now more than ever women are united forces that should not be reckoned with.
Monae describes that these offenses are occurring in the industry that she is in and as well as many other places. The power dynamics that have been shown in the media between producer and artist, doctor and patient, or significant other to one another, have brought to light the impact that the 'superior' has. We tend to distance ourselves from these dense conversations if we aren't directly affected by it or know of a person whose been affected by it. What if we talk about the SUNY New Paltz campus and the relationship between professor and student, or administrator and student? How does our input on this conversation change? Are people more open to express an opinion? Now that there is 'hype' on the subject, in other words it is a subject that everyone is aware of, conversations need to happen. Their needs to be education on the terms and social cues to pick up on. We are kept in the dark from these situations that it then becomes difficult for us to acknowledge our role in them. We need to educate one another and the future generations to come. Uncomfortable conversations will help us grow.
Kayla:
During the 2018 Grammys, Janelle Monae gave a speech about the Time's Up movement before introducing Ke$ha. Her speech was very inspirational. Instead of just introducing Ke$ha, she used the time that she had to shed light on inequality. She says that time is up for the abuse of power. She states that the abuse of power is not only in Washington but also in the music industry. Many people do not think about how inequality is in other areas. She uses her popularity as an entertainer to talk about these issues. She says that "we also have the power to undue the culture that does not serve us well." Men and women need to come together to create safe work environments and equal pay. While many women came out and spoke about their experiences with sexual harassment when the Time's Up movement came up, more people felt like they could speak out about their experiences. Monae states that there needs to be a unified music industry so that everyone is not only paid equally but also treated equally. She brings attention to the fact that things need to change. Her and many other artists are speaking out about the inequality and telling people that things need to change, that everyone needs to come together in order to make the industry change. While she was not on stage too long, she was able to bring to light the importance of fighting for equality and saying time is up for the unfair treatment and inequality that women are still facing today. I think this is a huge thing for her to say because she is reminding people that other places have inequality too, not just jobs in Washington. She reminds people that we need to come together to help fight inequality.
Siobhan:
In the short period of time that Janelle Monae had on stage the night of the Grammy's, she spoke a lot of truth and made me think about a lot of things.  She could have easily gone up on stage, introduced Ke$ha, and left, but instead she took out the time to stand in solidarity and raise awareness about an issue that has been affecting many mothers, daughters, wives, and sisters.  Janelle Monae delivered an incredible mini-speech on the night of the Grammy's that brought up so many relevant points about sexual assault and the abuse of power.  Janelle Monae, as a young, black female artist was here to tell us that #TIMESUP in the music industry.  
I've heard #TIMESUP before, but not in this context.  Though there haven't been as many artists under fire for this kind of behavior, Janelle Monae made it very clear that sexual assault as well as an abuse of power have not been limited to Hollywood and Washington, as some may think it is.  It would make sense in the music industry, particularly in Hip Hop, that women fall victim to this kind of abuse being that they are largely objectified, degraded, and misrepresented in Hip Hop rap lyrics and music videos (in my opinion).  
While some may disagree, I say that #TIMESUP for this type of disrespect, as well.  Why is it that someone like R. Kelly can sexually abuse underage women, do unspeakable things to them, and still have his music played on the radio as if there is nothing wrong with those actions?  Why is it that I can't listen to rap music without hearing the word "bitch" or "hoe" referring to a woman?  Likewise, I can't watch a music video without seeing women almost naked and men with their hands all over these women.  Why do men in the industry have the power to label women and put us into boxes?  And why does this translate into them having a perceived control over our bodies?  It boils down to having power and prestige, and it's not right- #TIMESUP.  
I think these images and messages that are delivered through videos and songs serve to normalize the kind of behavior that is detrimental to women inside and outside of the music industry.  People see artists endorsing a particular behavior or expression about women that's not okay, and they take it upon themselves to do what they saw to another woman, which does unnecessary damage.  Janelle Monae said, "Just as we have the power to shape culture, we have the power to undo the culture that does not serve us." She also says, "…So let's work together, women and men, as a united music industry committed to creating more safe work environments…"   The conversation has finally been started and it's open to both men and women.  It's important for men to make it their responsibility to do the right thing and be held accountable when they don't.  No more abusing power or hiding behind their money.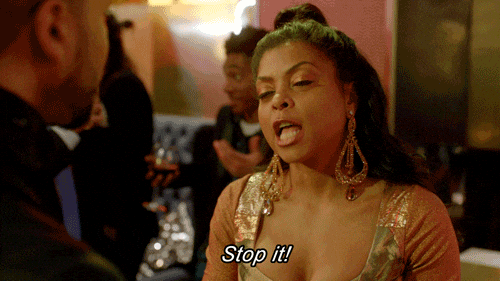 Brianna:
If there is anything that I do look forward to when it comes to the awards season it's the moving speeches, by artists such as Janelle Monae,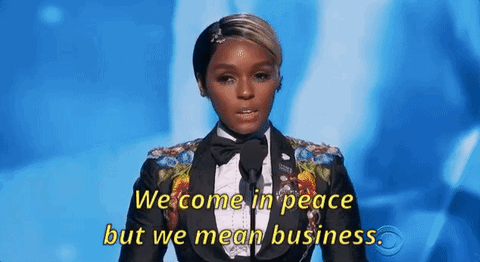 emotional performances by musicians such as Kesha,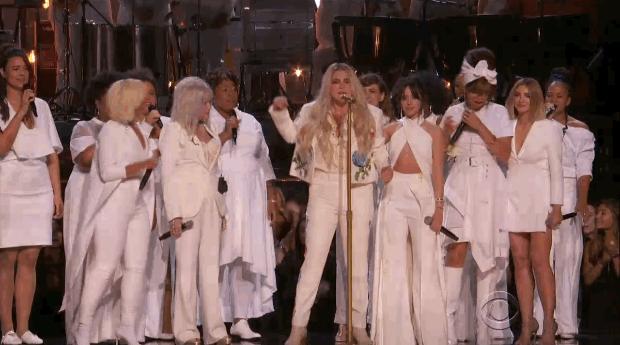 but more importantly, new gifs and memes—thank you Blue Ivy!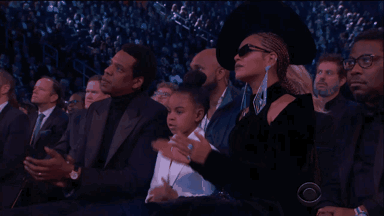 I kid, I kid. In all seriousness, although I do love the memes and gifs that seem to flood my timeline the minute after anything gif-worthy occurs, I am writing this because I need to talk about something much more significant. That is, the #MeToo movement that has been sweeping Hollywood and all the creeps along with it, one by one. In addition to #MeToo, the #TIMESUP initiative that famous women who are actors, musicians, et cetera have kickstarted.
Although the #MeToo movement, which was established a while back by Tarana Burke 10 years ago but was suddenly revitalized by the Twitterverse late last year, is doing some damage to the men in the TV and music industry, I'm not sure if I can say the same thing for the music industry.
Like I mentioned before, Janelle Monae delivered a very clear message to any and all predators that they will not be able to lurk and hide behind the demons of their victims forever, she unapologetically declared in front of the whole world, "We say time's up … because you see, it's not just going on in Hollywood, it's not just going on in Washington—it's right here in our industry as well."
I think that it was incredibly appropriate that Monae, gave this speech. I'm referring to the Hip Hop world, though Monae isn't directly a part of it, she is a Black woman and in Hip Hop/Rap, Black women face erasure, hypersexualization, and everything in between—almost, if not simultaneously. Although these initiatives were intended for Hollywood, I'm not so sure that it was intended for the music industry at all, and by extension Hip Hop.
All in all, I say this to say that the Hip Hop community, like pretty much anywhere else in the music industry, has a hard time of holding folks accountable, even if the people that it has to confront are people who have been accused of doing inexcusable things to young girls and women. However, words catalyze action and the normalization of predatory, abusive language is prevelant in Hip Hop and rap music, and otherwise. The list goes on and on, but there are so many artists who have shown to be predatory and abusive and yet, their careers still remain in tact, if not better. When exactly will the music industry, and the Hip Hop community tell abusers, that their Time is Up?
Here's the full video of Janelle Monae's speech.